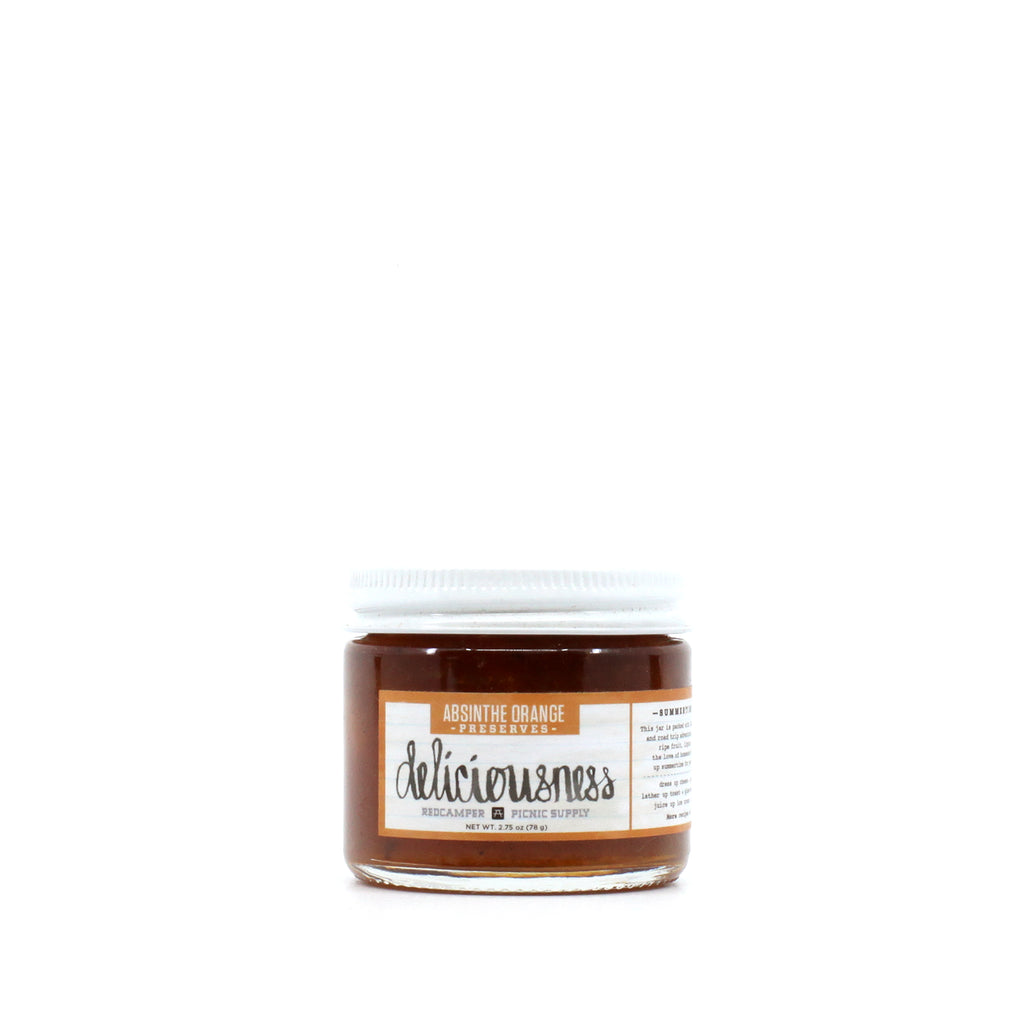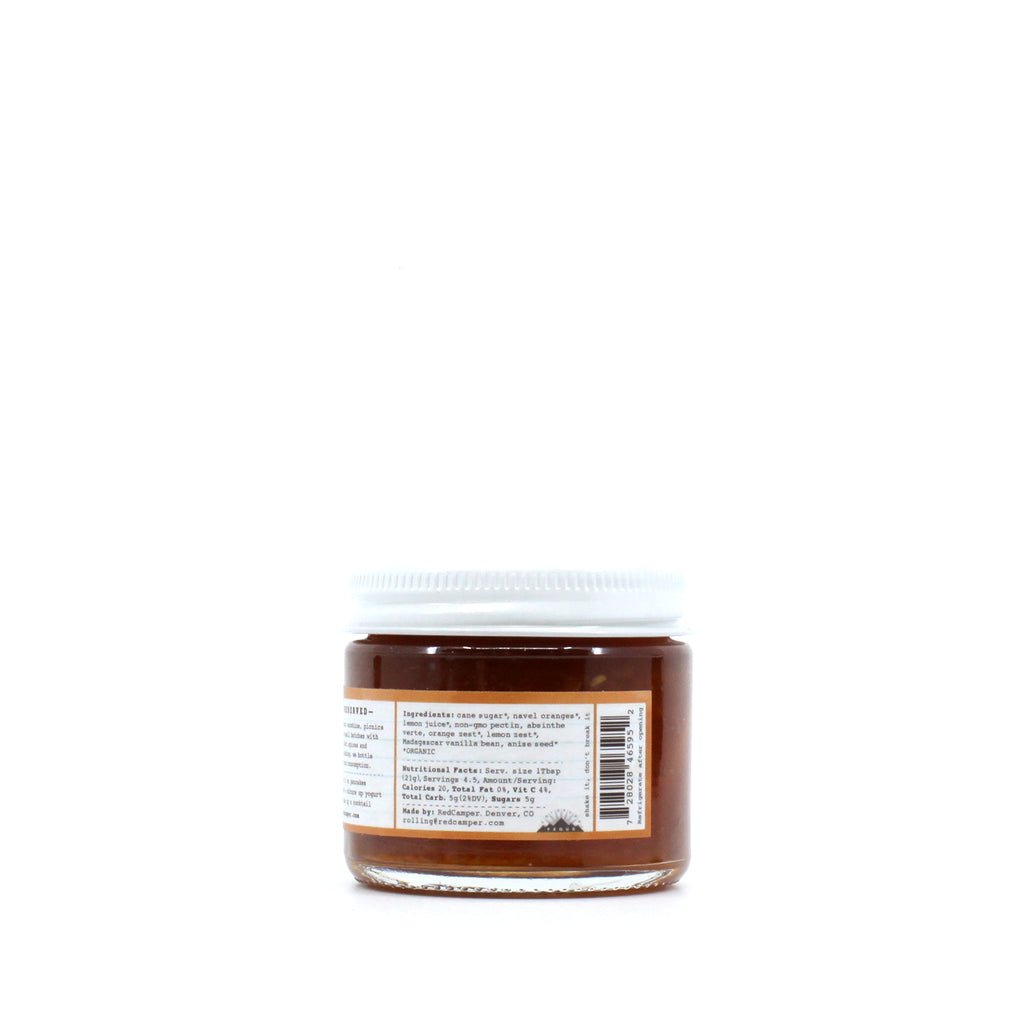 $6.50
$0.00
Absinthe Orange Deliciousness : Picnic Size


The most complex flavor of the line. In a good way. - now in picnic size!


Our picnic size is perfect for packing up for ..picnics.. but also throw it into your carry on luggage to have a more delicious onboard treat because this size is small enough to please TSA. It's also a perfect size for packing into gift baskets or creating your own gift pack with multiple flavors. 
Absinthe Orange Deliciousness is a new take on the traditional Orange Marmalade. We took the best of the tradition and mixed it up with some adult minded Absinthe to get a perfect blend of orange and anise that is both sweet, slightly bitter and complex. This flavor has been used by several local chefs for special events and is our personal favorite and we think it's our best recipe so far. It also was a
Good Food Awards
finalist in 2017. Absinthe Orange is one of our top cheese pairing flavors as it works with nearly every kind of cheese. 
We are proud to work with fresh organic oranges & lemons grown in sunny California, fresh anise, sustainably ethically raised Madagascar vanilla from the incredible
LAFAZA
organization, a non GMO pectin (because we believe our foods shouldn't be genetically modified) and Absinthe Verte from 
State 38
, a Golden Co based distillery. Still scared of Absinthe?
Read this for some dispelling of myths. 
While we don't like to brag much, we have already had our lives threatened if we didn't deliver more, it's that good. We think you will like this. 
Ingredients: Californian grown ORGANIC oranges and lemons, Absinthe Verte, fresh Madagascar Vanilla bean, whole Anise Seed, pure organic cane sugar, non GMO pectin and fresh Colorado water.
Size: Net Wt. 2.75 oz 


Nutrition Facts: Serving size 1 Tbs (21 g) Servings: 4.5, Amount per serving: Calories: 20, Total Fat 0%, Cholesterol 0%, Sodium 0%, Vit C 4%, Total Carbs 5g (2% DV) Sugars 5g Protein 0g
Some Pairing Suggestions...
CHEESE PLATE: Bloomy Rind Goat Cheese, any Bleus, Cambozola, Morbid, Montasio
BREAKFAST:
Love Yourself Granola
, Sourdough Toast, Buckwheat Pancakes, Belgian Waffles,
Simple Healthy Breakfast
,  Greek yogurt
APPETIZERS:
Glazed Pork Meatballs
, Goat Chèvre on Stone Cracker with Ground Spicy Rosemary Almonds
ENTREES:
Smoked Spicy Pork Spare Ribs
, Glazed Pork or Chicken,
Orange Pineapple Black Fried Rice (Vegan)
, Scallops,
Chili Orange Duck Buns
SIDES: Mix with olive oil & white wine vinegar for a Salad Dressing or Seasoning for Grilled Veggies
DESSERTS: Vanilla Ice cream,
Flour-less Chocolate Cake
, Fruit Tart (glaze), our amazing
Spiced Molasses Chocolate Chocolate chunk cookie w/Absinthe Orange cream
RedCamper Picnic Supply ... no picnic basket or glove compartment should be without.
•juice up your ice cream  •pour it on your pancakes  •lather up your toast  •rub it on your meat   •culture up your yogurt   •put it in your mixed drink  •eat it straight out of the jar